OFFICERS
President

Jean Chenault Logue
1st Vice President
Elizabeth Ann "Libby" Chenault
2nd Vice President
vacant
Secretary/Historian
Carolyn Sue Chenault
Treasurer
Donna Chenault Mellick
Parliamentarian
position vacant
Executive
Bylaws
Reunion Site
Program
Genealogy
Nominating
Directory Inquiries
Newsletter Inquiries
Webmaster/Postmaster
President
Jean Chenault Logue

Dear Cousins,
Our annual Chenault National Family Reunion is quickly approaching, and Howard, James, my dad and I are working hard to make it a memorable event. The reunion will be held in Berea, Kentucky at the Historic Boone Tavern Hotel. As many of you know, we live in Richmond, Kentucky 20 miles north of Berea. Both cities are in Madison County, Kentucky. I bring this up as Madison County is rich with Chenault family heritage.
William Chenault (115) is recognized as one of the first settlors of Fort Boonesborough. Our reunion will include a trip to the Fort where you will enjoy a tour and lunch inside the Block House. For those interested, we can also visit the nearby farm William purchased from George Boone, Danial Boone's brother. William is buried on the farm. Additionally, for those interested, we can visit Old Cane Springs Church where Elder David (1151) served as the minister for many years. He lived on the farm next to the church. The Chenault Family Cemetery located on the farm is also interesting to visit.
Madison County offers a lot of fun activities for your entire family. Berea is the home of Berea College and is known as the Arts and Crafts Capitol of Kentucky. The block around the hotel is full of shops and restaurants. Richmond is the home of Eastern Kentucky University and has a beautiful golf course and water park. Whitehall State Historic Site, the home of Cassius Clay, is located down the road from the Fort. For those traveling by air, we will be glad to provide transportation from the airport to the hotel and to the Fort.
I encourage all of you to attend and bring your family members both young and old (somehow I think I am moving toward the latter category). We hope to make this a fun event for the entire family and share some interesting Chenault Family history.
Your cousin,
Jean Chenault Logue
TOP

1st Vice President
Elizabeth Ann "Libby" Chenault

2nd Vice President
vacant
TOP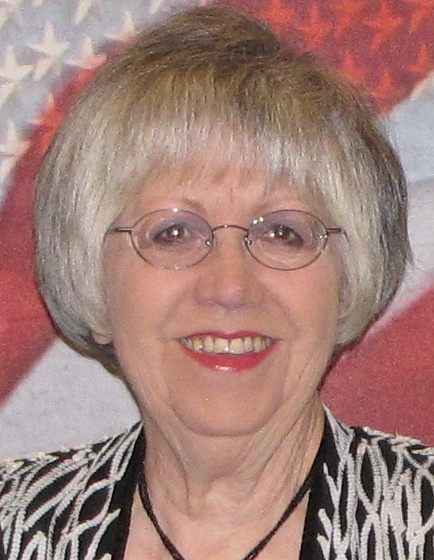 Secretary/Historian
Carolyn Sue Chenault
schenault@tx.rr.com
Although attendance at our reunion in Charlotte was less that we had hoped it would be, we had a memorable event. Charlotte is a beautiful city, and with my love of gardening, I found the colorful flowers and crepe myrtles fully in bloom breathtaking. For those unable to attend, you missed a good one!
I arrived home to find several emails from "cousins" seeking information on their family lines, so my quest to continue the expansion of our files of family information continues.
Last year I attempted for compile a list of all descendants who have been recipients of military awards including Purple Hearts, Silver and Bronze Stars, Legion of Merits, and others. For those identified, I have endeavored to include their action that resulted in the recognition. In Charlotte those who have been identified thus far were recognized as part of our program. My goal this year is to compile a list of all first responders, i.e., police officers, constables, sheriffs, firemen, and paramedics among our "cousins" and to honor them at the 2017 reunion. So, if you know of descendants who should appear on this list, please let me know.
I hope you will save the date, Jul 14-16, and plan to attend the reunion in 2017, in Richmond, KY. Come meet your "cousins" and find out what you have been missing.
Sincerely,
Carolyn Sue Chenault
TOP

A Message from Our Treasurer
Treasurer
Donna Chenault Mellick

TOP

Executive
Responsible for the execution of official association business and financial matters affecting the association.
President - Chairperson
1st and 2nd Vice Presidents
Secretary/Historian
Treasurer
Reunion Site
Investigates sites for future reunions and recommends locations for approval of membership at annual business meeting during reunion.
(vacant) - Chairperson

Genealogy Committee
Responds to inquiries regarding Chenault ancestor research with suggestions for further research sources or contacts.
Carolyn Sue Chenault - Chairperson schenault@tx.rr.com.



Bylaws
Annually reviews bylaws to determine needed modifications to recommend to membership.
Judge Jean Chenault Logue - Chairperson
Judge James Stouffer Chenault
Nathan Harsh, Attorney
Program Committee
Plans reunion program and arranges for speakers and special entertainment or events during reunion.
Elizabeth Ann "Libby" Chenault - Chairperson
Nominating Committee
Recommends the slate of candidates for the officer positions and presents the names for approval by the attendees at the annual business meeting during the reunion.
Luisa Chenault - Co-Chairperson
Peggy Shinault Miller - Co-Chairperson
Memorial Service Subcommittee
Rev. Nan Chenault Marshall Cushing
TOP

Directory Inquiries, Newsletter Editor, and
Webmaster/Postmaster - -
Carolyn Sue Chenault
schenault@tx.rr.com