OFFICERS
President
David Larkin Chenault
1st Vice President
Charles Kenneth Mellick
2nd Vice President
vacant
Secretary/Historian
Carolyn Sue Chenault
Treasurer
Garth "Gus" Mellick
Parliamentarian
position vacant
Executive
Bylaws
Reunion Site
Program
Genealogy
Nominating
Directory Inquiries
Newsletter Inquiries
Webmaster/Postmaster
President
David Larkin Chenault
david.larkin.chenault@gmail.com


Dear Cousins:
Thanks to Chenault Family National Association (CFNA) Immediate Past President Libby Chenault, Secretary Sue Chenault, Treasurer Gus (and Donna) Mellick and all the other leaders and supportive cousins who participated in our Roanoke Reunion in July. Congratulations to Chuck Mellick, who was elected First Vice President. As you may have heard, members also voted to hold the 2019 Reunion, our 70th, in Hot Springs, AR.
NEWS FLASH: We are still going to Hot Springs, but the Executive Board ('the Board") had to postpone that until 2020 because all the hotels there were already committed to a large convention which is held the third weekend every July, our traditional weekend. We checked the weekends immediately before and after, but they were taken also. However, the SECOND weekend in July 2020, only a year later, was available, and the Board reserved it immediately.
Sue and Jerry then looked for a 2019 replacement, checking Shreveport, Lake Charles and other locations. The Board ultimately chose Louisville, the only place which met our standards and had a desirable hotel enthusiastic about hosting us. Louisville is also closer to cousins south and west than recent Reunions. The Reunion has never been held in the Derby City, which has a museum housing Estienne's putative Bible; Kentucky Derby and Louisville Slugger Museums; a fun, extensive Fourth Street food/entertainment complex, distillery tours, the Kentucky Center for the Arts and the nationally-acclaimed Actor's Theatre. We are also looking into the possibility of a cruise on the Belle of Louisville, a restored full-size steamboat which docks next to our riverfront hotel, the famous Galt House.
While working on 2019 and 2020, the Board decided also to investigate the official hotels of Colonial Williamsburg (CW), the best attended Reunion in decades, much-discussed recently. When the Board learned that reservations there must be made three years in advance to meet our price ceiling, we quickly reserved the highly-rated Williamsburg Woodlands for 2021, the 320th anniversary of Estienne's coming to America in nearby Yorktown!
Last, but not least, I have asked Vice President Chuck to chair this year's Site Committee to develop a recommendation for 2022 by no later than our 2020 Reunion. This follows the Association's "Officer's Handbook," which requires that future sites be recommended "a minimum of two years in advance" and include the city, hotel (showing rates and amenities), meeting accommodations, possible sites of interest and other pertinent information. I would like the Committee to add "assurance of availability" to its recommendations before future votes and also to develop guidelines about geographical rotation and inter-generational appeal, as discussed in Roanoke. Ed Chenault, who addressed some of these subjects there, has agreed to serve, and the Committee will have Sue and Jerry's outstanding support. Let me know if you are interested in serving in this effort, too.
The Board sincerely hopes all cousins will share our unanimous enthusiasm about this three-year plan and understand why we acted quickly and decisively. I hope we can make similar progress on other issues with more member input. Please send me your suggestions.
Best wishes,
Larkin
TOP

1st Vice President
Charles Joseph Mellick

2nd Vice President
vacant
TOP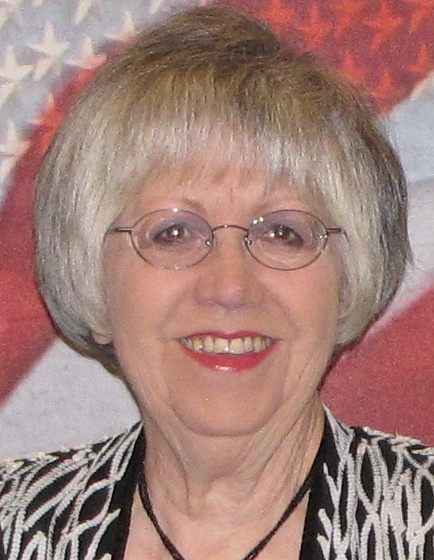 Secretary/Historian
Carolyn Sue Chenault
schenault@tx.rr.com
It was wonderful to see my cousins in Roanoke, and, as always, catch up on what has been keeping them busy the past few months. I enjoy hearing their stories and sharing some of what I have been doing to capture more of our family's history. I especially enjoy the journey to and from the reunions because I get to spend some quality time visiting with my dear cousin Barbara MacManus, who flies to Dallas and rides to the reunions with my brother, Jerry, and me. She is a delight and a great mentor to me.
If you do not attend our annual reunions, you are missing a great opportunity to learn about your family and how special your cousins are. Our speaker at the Saturday evening dinner, one of our cousins, spoke about the legacy of Estienne and how we are the custodians of it. While we can use social media or our phones to stay in touch with each other, there is nothing like meeting face-to-face and getting to know the person behind those messages. You get to see that special smile of Frank Thurman and hear that great southern accent of Margaret Stockton. You get to experience the humor of Judge Jim Chenault and hear the courageous testimony of Betty Chenault Garrett. You get to make good friends with so many folks and look forward to seeing them each year. Yes, I love it! So, please mark your calendars for next July to attend and get to know us...and let us get to know you.
If you need help to determine where you fit into the Chenault family tree, I would love to help you. I stay busy in my garden outside when weather permits with my sweet pal, Zoe, at my side, but I spend a great deal of time tending the family tree, too. I work on all lines of the family adding new and change information. Unlike websites that charge for access to their data, I provide information from my files without charge. I am also available to help anyone wanting to join the National Huguenot Society with completing their application. So, let me hear from you.
Sincerely,
Carolyn Sue Chenault
TOP

Treasurer
Garth "Gus" Mellick

Financial reports are not published in the newsletter, but are shared with members in two ways. A copy of the complete report is covered in the reunion business meeting and any questions are addressed. Anyone who does not attend the reunion is welcome to request a copy of the report be mailed to them by contactng me.

Garth "Gus" Mellick
TOP

Executive
Responsible for the execution of official association business and financial matters affecting the association.
President - Chairperson
1st and 2nd Vice Presidents
Secretary/Historian
Treasurer
Reunion Site
Investigates sites for future reunions and recommends locations for approval of membership at annual business meeting during reunion.
1st Vice President - Chairperson

Genealogy Committee
Responds to inquiries regarding Chenault ancestor research with suggestions for further research sources or contacts.
Carolyn Sue Chenault - Chairperson schenault@tx.rr.com.



Bylaws
Annually reviews bylaws to determine needed modifications to recommend to membership.
Judge Jean Chenault Logue - Chairperson
Judge James Stouffer Chenault
Nathan Harsh, Attorney
Program Committee
Plans reunion program and arranges for speakers and special entertainment or events during reunion.
1st Vice President - Chairperson
Nominating Committee
Recommends the slate of candidates for the officer positions and presents the names for approval by the attendees at the annual business meeting during the reunion.
Luisa deVarona Chenault
Margaret Stockton
Susan Thurman
Memorial Service Subcommittee
Rev. Nan Chenault Marshall Cushing
TOP

Directory Inquiries, Newsletter Editor, and
Webmaster/Postmaster - -
Carolyn Sue Chenault
schenault@tx.rr.com