SIGHTS ARE SET ON
Berea
Kentucky
July 14-15, 2017

Chenault Family National Association
National Reunions
A Brief History
A "national" reunion of Chenault/Chennault family cousins was first held the Sunday, September 30, 1950 in Dallas, Texas. The site of the reunion was Glendale Park. Arrangements were handled by W. R. "Bill" Chenault and Ancil D. Chennault, both of Dallas. Registration began at 11 a.m., and lunch was served at 12:30 p.m. The program, presided over by David Chenault, included allowing every attendee to introduce themselves followed by a presentation by W. S. "Bill" Chennault, brother of General Claire Chennault and former "Bronco Busting" Sweetwater, Texas, mayor. Entertainment was provided by the Morton's Potato Chip Magicians. It must have been an enjoyable afternoon, for they all agreed to do it again in 1951.
The second reunion was held Sunday, September 2, 1951, at the picnic grounds at Dallas' Fair Park. Lunch was furnished by the local family members, who brought plenty of fried chicken to feed the large crowd that gathered for the afternoon festivities. Arrangements were again handled by W. R. Chenault and Ancil Chennault. Cousins from Maryland, Arkansas, Mississippi, Kentucky, Alabama, and Texas shared history on their branches of the family. Dr. Frank Chenault, longtime historian who had amassed a remarkable collection of information about the family, was one of the featured speakers.
The first printed program of the reunion was available at the third reunion, Sunday, August 31, 1952 at the Texas State Fair Grounds in Dallas. Although Gen. Claire Chennault had planned to attend, a last minute emergency in the Far East demanded his attention. In addition to lunch and introductions of guests, a musical program was directed by David Chenault, and all cousins joined in an old-fashioned family sing song. Following the third reunion in Dallas, there were three reunions held in Memphis, Tennessee before the site began to be moved to a new location each year. Following the 33rd reunion in 1982, the date of the reunion began to change moving into the summer months, and finally being set to the third weekend of July after about four reunions.
The Golden Anniversary (50th) of the annual reunion was celebrated in Jackson, Mississippi, July 16-18, 1999. Although attendance has fluctuated through the years, interest in the annual gatherings has remained high among family members scattered across the country. One of the most popular reunions was the 2001 reunion held in Williamsburg, Virginia, when the program centered around the 300th anniversary of in America of Estienne Cheneau aboard the Nassau.
However, whether attendance is high or low, the attendees seem to thoroughly enjoy the fellowship with their cousins, recounting the history and stories from their branch of the family, and a chance to meet newly-found family.
A Family Treasure

In the early 1990's,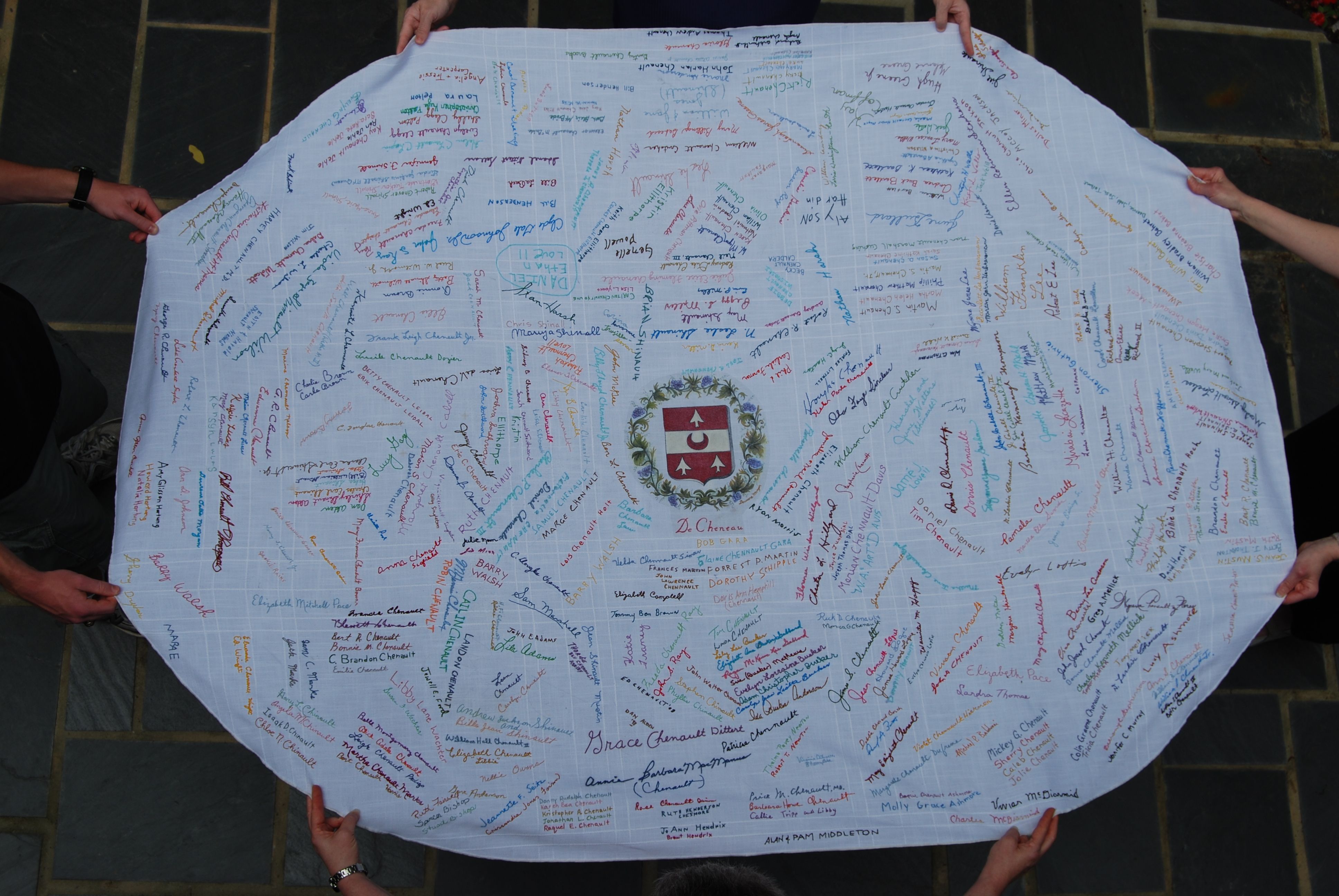 a new feature made its first appearance at the annual reunions. Alma Deurene Oates Morgan (RB# 11142.31751) brought a large round tablecloth with the Chenault coat of arms in the center and spread it out on one of the tables. Attendees signed the cloth while at the reunion. Following the reunion, she embroidered each signature to preserve it. The cloth was displayed at subsequent reunions for those who had not previously signed it to add their signature, which was then embroidered to preserve it. This practice continued for a few years, but when Deurene passed away the cloth was temporarily mislaid.
In 2000, at the reunion in Dallas, it was once again made available for signing, and a volunteer was solicited to embroider the names that had been added but not stitched after several reunions. Ovie "Granny" Chenault volunteered and took the cloth with her. Prior to the next reunion in 2001 in Williamsburg, VA, Granny embroidered more than 300 names to complete the cloth. She continued to do the embroidering for about five years when she was forced to give it up due to her failing eyesight. During the time Granny was responsible for embroidering the cloth, her daughter, Carolyn Sue, re-touched the painting of the coat of arms which was beginning to fade. Peggy Shinault Miller stepped in for a couple of years to assume the embroidering task before passing it to Susan Farmer Wachter. Names added at each reunion are now embroidered by Elizabeth Ann "Libby" Chenault.
The cloth has become a Chenault Family treasure among reunion attendees and will continue to be displayed for additional signatures of attendees as long as there is space to sign.

2017 NATIONAL REUNION INFORMATION
The most current information regarding the 2017 national reunion will be published below as it becomes available. Details concerning the site, travel information, registration, schedule of events, the silent auction, and memorabilia are reflected below. Also, do not overlook the Things To See On Your Reunion Visit that is included at the end of this page. Mark your calendars now and plan to attend! Information about state reunions may be found on the "What's Up" page of this site.
DATE - Friday, July 14 through Sunday, July 16 , 2017

PLACE - Berea, Kentucky
REGISTRATION INFORMATION - Hotel reservation information as covered below is the responsibility of the individual attendees. Registration for the reunion is to be handled separately and can be done by email or by completing a registration form and forwarding it to Carolyn Sue Chenault (address included on form). Click here for a PDF version of the 2017 Registration Form.

HEADQUARTERS HOTEL - Boone Tavern Hotel & Restaurant
LOCATION - 100 Main Street, Berea, KY
HOTEL INFORMATION - The hotel is unique in that the guest rooms vary in decor and accommodations. Following is a summary of the rooms set aside for the Chenault Family and the associated special daily rate: (tax to be added)
Scholar Double - 1 double bed (room is quite small but will accommodate one person) - 99.00
Standard Queen - 1 queen bed - 110.00
Standard Double - 2 double beds - 116.00
Standard Kind - 1 king bed - 116.00
Junior King Suite - 126.00
Executive King Suite - 136.00
The hotel is a completely non-smoking environment. There is a complimentary Business Center, and complimentary WiFi is provided in all guest rooms. Parking is also complimentary. Guest bathroom amenities are all natural products.
RESERVATION CUTOFF DATE FOR THE GUARANTEED CHENAULT REUNION RATE IS JUNE 13, 2017.
IMPORTANT NOTE: The hotel is under no obligation to honor the special reunion rate for reservations requested after the cutoff date. Reservations beyond the cutoff date will be accepted only if rooms are available. The special rate is available for extended stays two days prior to and two days following the reunion dates.
Guests can make reservations by calling Boone Tavern at 859-985-3701 and asking for the group block for Chenault Family. Guests with special requests such as connecting rooms or extended stays are encouraged to handle their reservations by phone. Guests may also make reservations by going to the Boone Tavern website at www.boonetavernhotel.com and selecting the reservations tab. From that screen. select "CheckAvailability and Book Now: blue button. Use the group code of 146779 in GROUP ID. That code is specific to the Chenault group block only. Then, follow the reservations prompts to complete the reservations.
All reservations require a credit card number to guarantee the reservation only. Payment is due upon check-in. The hotel has a 24-hour cancellation policy. All reservations must be canceled 24 house prior to arrival to avoid a one-night room and tax cancellation fee.
GETTING THERE –
From Lexington and Cincinnati driving South on I-75 - Take Exit 77 for KY-595S. Turn left onto KY 595 and proceed to Walnut Meadow Rd. Turn right and continue to Main Street. Boone Tavern is on the left.
From Knoxville driving north on I-75 - Take Exit 76 for KY-21. Turn right on KY-21/E Chestnut Street and proceed to Estill Street. Take a sharp right onto South Main Street. Boone Tavern on the left.
PROGRAM – Registration will begin at 1:00 p.m., Friday, July 14 in the hospitality room, which will be open after 1:00 p.m. for visiting and display of silent auction items and memorabilia. It will remain open until 11:00 p.m. Friday except during the Friday night activities.
Friday from 7:00 p.m. to 9:00 p.m., our customary get-acquainted gathering will include introductions of attending family groups, refreshments, and an informal program.
Saturday morning the hospitality room will open at 8:00 a.m. for late registrations, visiting, silent auction bidding, etc. It will be closed during the business meeting and other activities.
Saturday morning after the business meeting is adjourned, attendees will be on their own to explore the area as they choose during the remainder of the morning and the afternoon. Details about an optional tour of Boonesboro for those who would like to visit the site are being completed and will be posted on this site shortly.
Saturday evening, at 7:00 p.m., attendees shall gather for dinner which will be followed by a program that will include entertainment, results of the silent auction, the reading of the annual memorial list, and the installation of new officers.
SILENT AUCTION - Items donated by family members will be auctioned to help defray association expenses. Handmade crafts are especially welcome, as are artifacts, books, copies of photos, news articles, etc., especially those having historical and/or Chenault connections. These are displayed in the hospitality room. The auction will close immediately prior to the start of the dinner Saturday evening, with the winning bids to be announced at the dinner.
MEMORABILIA -
Members are invited to bring photos, books, and other family mementos to share with others. These items are not for sale. Place a descriptive label and owner's name on the items before leaving them on display. Also, on display will be mementos from previous reunions and several collections of correspondence, news clippings, and other items from the Association's historical files.

ENTERTAINMENT -
Volunteers are encouraged to participate. Vocalists, especially light music like Broadway, Country, Oldies, guitar, banjo, violin, barbershop, or yodeling are always welcome.

THINGS TO SEE ON YOUR REUNION VISIT
KENTUCKY ARTISAN CENTER - The center celebrates Kentucky's artisans through sales, exhibits and displays. It is a great place to experience Kentucky's artisan products. Open daily 9-6, Free Admission
OLD TOWN ARTISAN VILLAGE - Home to the studios and galleries of over 20 artist. This district is a great place to see artists at work.
THE PINNACLES - Up for a hike? This is a beautiful way to spend about 4 hours and experience some of the most beautiful vistas on any trail (6.6 miles in length) in the country.
HUMMEL PLANETARIUM AT EASTERN KY UNIVERSITY - Open every Saturday with no reservations required. Saturday show times at noon and 1:30 PM. Visit their Homepage for more information about the Saturday shows.
TATER KNOB POTTER AND FARM - Need a spoon bread baker or melodic clay bells? This is the place to visit. The hand-crafted pieces made by these artists are unique, lead-free, functional and just plain beautiful. Open Mon-Sat, 9-5.