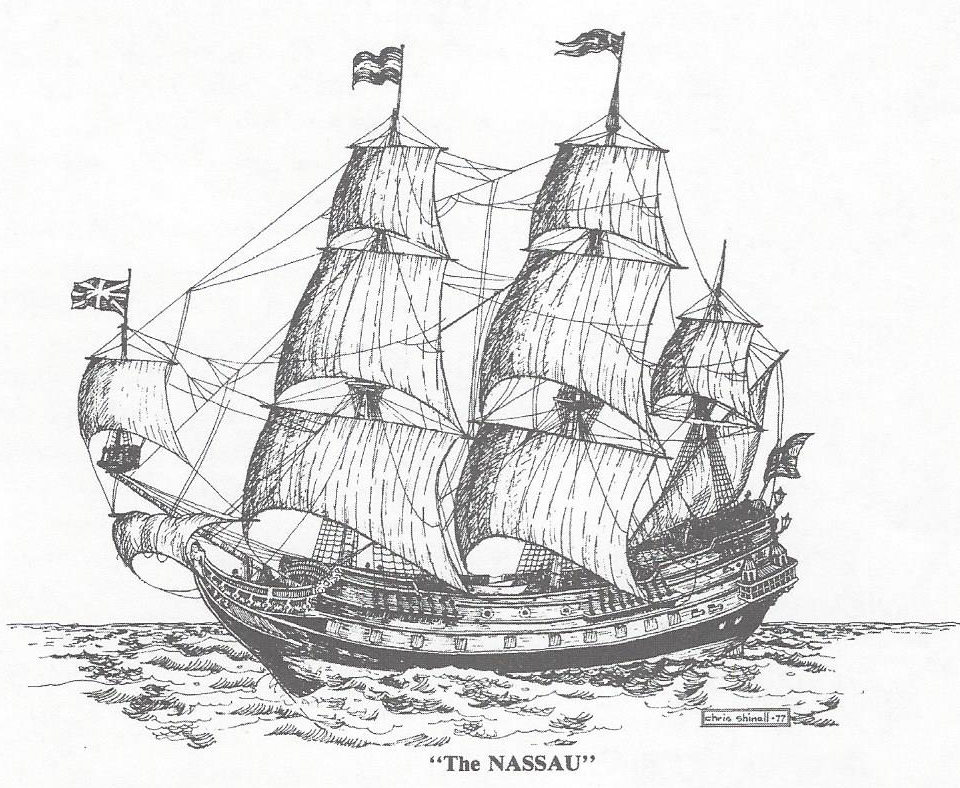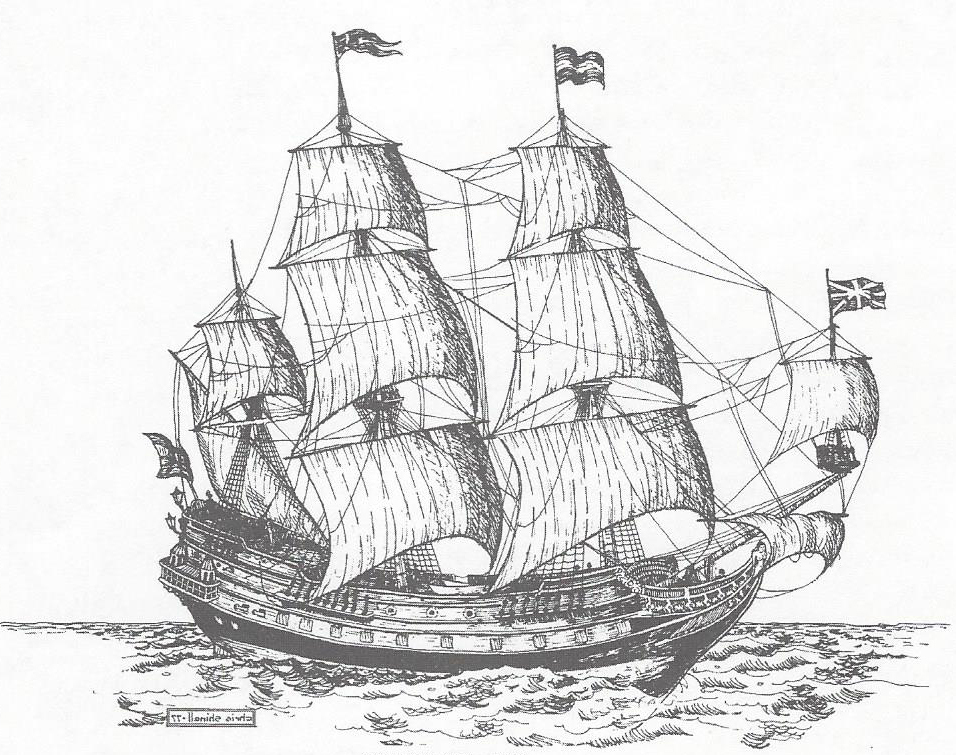 SET A COURSE FOR
Roanoke,Virginia
July 20-22, 2018

Chenault Family National Association
National Reunions
A Brief History
A "national" reunion of Chenault/Chennault family cousins was first held Sunday, September 30, 1950 in Dallas, Texas. The site of the reunion was Glendale Park. Arrangements were handled by W. R. "Bill" Chenault and Ancil D. Chennault, both of Dallas. Registration began at 11 a.m., and lunch was served at 12:30 p.m. The program, presided over by David Chenault, included allowing every attendee to introduce themselves followed by a presentation by W. S. "Bill" Chennault, brother of General Claire Chennault and former "Bronco Busting" Sweetwater, Texas, mayor. Entertainment was provided by the Morton's Potato Chip Magicians. It must have been an enjoyable afternoon, for they all agreed to do it again in 1951.
The second reunion was held Sunday, September 2, 1951, at the picnic grounds at Dallas' Fair Park. Lunch was furnished by the local family members, who brought plenty of fried chicken to feed the large crowd that gathered for the afternoon festivities. Arrangements were again handled by W. R. Chenault and Ancil Chennault. Cousins from Maryland, Arkansas, Mississippi, Kentucky, Alabama, and Texas shared history on their branches of the family. Dr. Frank Chenault, longtime historian who had amassed a remarkable collection of information about the family, was one of the featured speakers.
The first printed program of the reunion was available at the third reunion, Sunday, August 31, 1952 at the Texas State Fair Grounds in Dallas. Although Gen. Claire Chennault had planned to attend, a last minute emergency in the Far East demanded his attention. In addition to lunch and introductions of guests, a musical program was directed by David Chenault, and all cousins joined in an old-fashioned family sing song. Following the third reunion in Dallas, there were three reunions held in Memphis, Tennessee before the site began to be moved to a new location each year. Following the 33rd reunion in 1982, the date of the reunion began to change moving into the summer months, and finally being set to the third weekend of July after about four reunions.
The Golden Anniversary (50th) of the annual reunion was celebrated in Jackson, Mississippi, July 16-18, 1999. Although attendance has fluctuated through the years, interest in the annual gatherings has remained high among family members scattered across the country. One of the most popular reunions was the 2001 reunion held in Williamsburg, Virginia, when the program centered around the 300th anniversary of in America of Estienne Cheneau aboard the Nassau.
However, whether attendance is high or low, the attendees seem to thoroughly enjoy the fellowship with their cousins, recounting the history and stories from their branch of the family, and a chance to meet newly-found family.
A Family Treasure

In the early 1990's,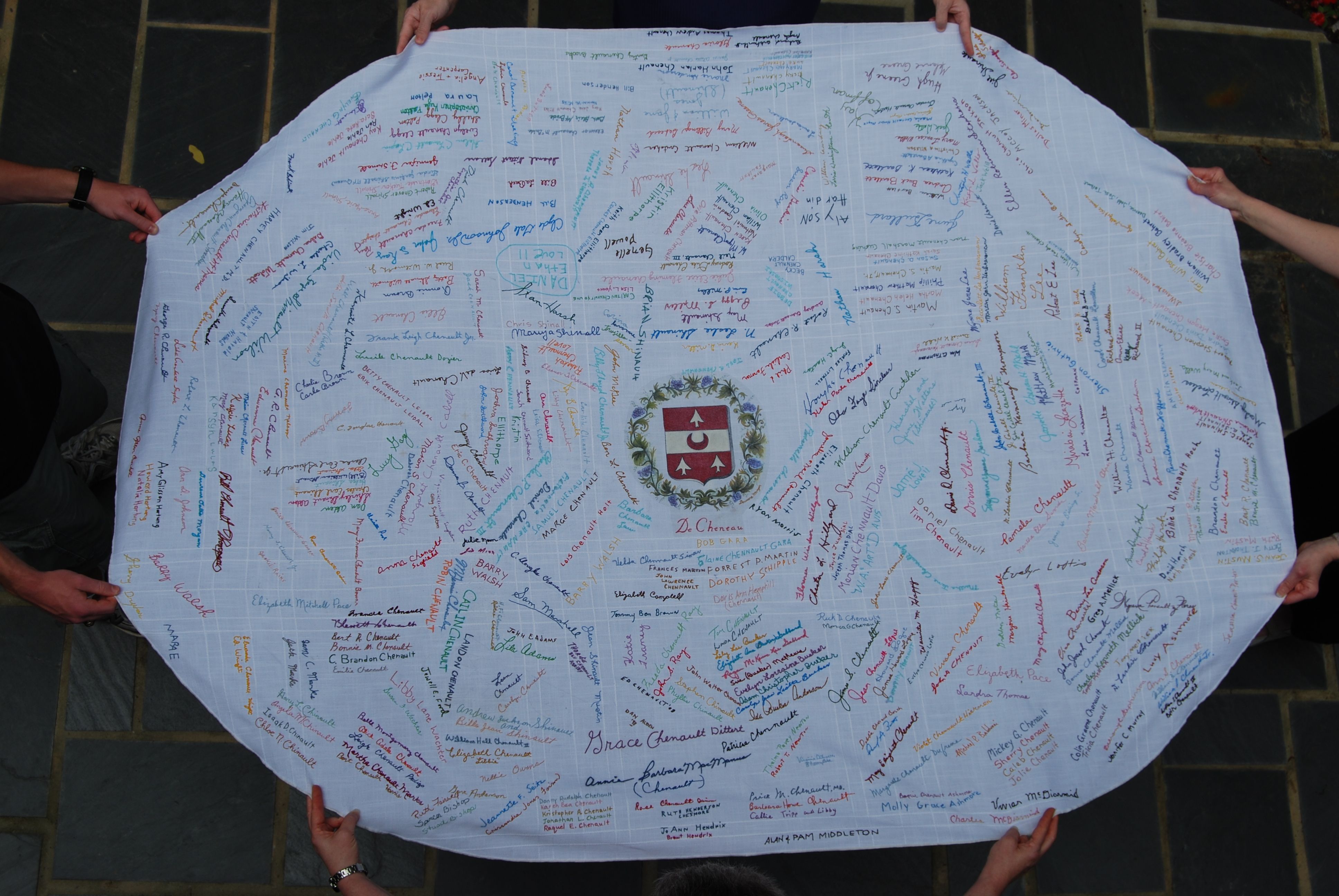 a new feature made its first appearance at the annual reunions. Alma Deurene Oates Morgan (RB# 11142.31751) brought a large round tablecloth with the Chenault coat of arms in the center and spread it out on one of the tables. Attendees signed the cloth while at the reunion. Following the reunion, she embroidered each signature to preserve it. The cloth was displayed at subsequent reunions for those who had not previously signed it to add their signature, which was then embroidered to preserve it. This practice continued for a few years, but when Deurene passed away the cloth was temporarily mislaid.
In 2000, at the reunion in Dallas, it was once again made available for signing, and a volunteer was solicited to embroider the names that had been added but not stitched after several reunions. Ovie "Granny" Chenault volunteered and took the cloth with her. Prior to the next reunion in 2001 in Williamsburg, VA, Granny embroidered more than 300 names to complete the cloth. She continued to do the embroidering for about five years when she was forced to give it up due to her failing eyesight. During the time Granny was responsible for embroidering the cloth, her daughter, Carolyn Sue, re-touched the painting of the coat of arms which was beginning to fade. Peggy Shinault Miller stepped in for a couple of years to assume the embroidering task before passing it to Susan Farmer Wachter. Names added at each reunion are now embroidered by Elizabeth Ann "Libby" Chenault.
The cloth has become a Chenault Family treasure among reunion attendees and will continue to be displayed for additional signatures of attendees as long as there is space to sign.

2018 NATIONAL REUNION INFORMATION
The most current information regarding the 2018 national reunion will be published below as it becomes available. Details concerning the site, travel information, registration, schedule of events, the silent auction, and memorabilia are reflected below. Also, do not overlook the Things To See On Your Reunion Visit that is included at the end of this page. Mark your calendars now and plan to attend!
DATE - Friday, July 20 through Sunday, July 22 , 2018

PLACE - Roanoke, Virginia
REGISTRATION INFORMATION - Hotel reservation information as covered below is the responsibility of the individual attendees. Registration for the reunion is handled separately and can be done by email or by completing a registration form and forwarding it to Carolyn Sue Chenault (address included on form). Click here for a PDF version of the 2018 Registration Form.
Important, please note the Friday afternoon D-Day Memorial tour information that is included on the registration form. If you desire to take advantage of this tour, your registration form, so noted, must be received no later than July 3rd.

HEADQUARTERS HOTEL - The Hotel Roanoke and Conference Center
LOCATION - 110 Shenandoah Av NW, Roanoke, VA 24016
HOTEL INFORMATION - The Chenault Family National Reunion special rate will be $149 plus state and local tax for a room with two double beds or one king bed. This room rate does not include any meal or parking charges. Parking rates for hotel guests is as follows: Self-Parking: $10 per day; Valet Parking: $16 per day.
Check-in time is 4 PM; check-out time is 11 AM. Hotel policy states that to confirm a sleeping room, it must be secured with a valid credit card provided by guest, along with a first night's deposit, which is refundable up to 7 days in advance of the reunion. Checks and major credit cards are acceptable to establish prepayment. All credit cards used t prepay the room deposit will be charged immediately. Guests who depart prior to their reserved check-out date may be charged an early departure fee if they fail to notify hotel personnel at check-in.
RESERVATION CUTOFF DATE FOR THE GUARANTEED CHENAULT REUNION RATE IS JUNE 20, 2018.
IMPORTANT NOTE: The hotel is under no obligation to honor the special reunion rate for reservations requested after the cutoff date. Reservations beyond the cutoff date will be accepted only if rooms are available. The special rate is available for extended stays two days prior to and two days following the reunion dates.
MAKING RESERVATIONS: Reservations may be arranged directly with the hotel at 540-985-5900 or online as follows. A dedicated website is available for attendees to book hotel rooms for Fridayi and Saturday nights only. If you wish to book Thursday night or Sunday night, you must call the hotel number and handle those nights by phone. Reservations can be made at this web address:
https://aws.passkey.com/e/49566142
GETTING THERE – Coming into Roanoke from north or south, merge onto I-581. Take the exit for US-11/US-220 Bus S toward Downtown. Merge onto Williamson Rd NE/US-11 via the ramp on the left toward Downtown. Take the 2nd right onto Shenandoah Av NE. Hotel will be on left.

PROGRAM – The following is a general preview of reunion activities. When more a more definitive agenda is finalized, it will be posted here.
Registration will begin at 1:00 p.m., Friday, July 20 in the hospitality room, which will be open after 1:00 p.m. for visiting and display of silent auction items and memorabilia. It will remain open until 11:00 p.m. Friday except during the Friday night activities.
Also, for early arrivers, a tour of the D-Day Memorial in Bedford, VA, is being offered courtesy of one of our cousins. Please note details for sign-up on the registration form. Participants can either be at the memorial by 2:50 p.m. or can meet in the hotel parking lot by 1:50 p.m. to caravan to the site.
Friday from 7:00 p.m. to 9:00 p.m., our customary get-acquainted gathering will include introductions of attending family groups, refreshments, and an informal program.
Saturday morning the hospitality room will open at 8:00 a.m. for late registrations, visiting, silent auction bidding, etc. It will be closed during the business meeting and other activities.
A continental breakfast for attendees will open at 7:30 a.m. After the business meeting, which will begin at 9:00 a.m., is adjourned, attendees will be on their own to explore the area as they choose during the remainder of the morning and the afternoon.
Saturday evening, at 7:00 p.m., attendees shall gather for dinner which will be followed by a program that will include entertainment, results of the silent auction, the reading of the annual memorial list, and the installation of new officers.
SILENT AUCTION - Items donated by family members will be auctioned to help defray association expenses. Handmade crafts are especially welcome, as are artifacts, books, copies of photos, news articles, etc., especially those having historical and/or Chenault connections. These are displayed in the hospitality room. The auction will close at 5:00 p.m. to allow time to process the bids before the start of the dinner Saturday evening, with the winning bids to be announced at the dinner.
MEMORABILIA -
Members are invited to bring photos, books, and other family mementos to share with others. These items are not for sale. Place a descriptive label and owner's name on the items before leaving them on display. Also, on display will be mementos from previous reunions and several collections of correspondence, news clippings, and other items from the Association's historical files.



THINGS TO SEE ON YOUR REUNION VISIT
Drive the Blue Ridge Parkway, take a food tour or wine tasting tour, shop for antiques, or visit the Mill Mountain Star to experience incredible views of the surrounding scenery. Or, perhaps, one of the following would be of interest to attendees.
Virginia Museum of Transportation
303 Norfolk Av SW
Antique automobiles and trucks, electric and diesel locomotives, and vintage steam are all part of the nostalgic show in this museum which is located in a historic freight station. Look for cousin Steve Southward's racing car! Open 7 days a week...Monday through Saturday, 10-5; Sunday, 1-5. Admission rates: Adults (19-59), $10; Seniors (60+), $8; Students (19-25 w/ID), $8; Youth (13-18), $8; Children (3-12), $6; Members and Kids under 3, free. Admissions tax of 5.5% is in addition to rates shown.
Black Dog Architectural Salvage and Antiques
902 13th St SW
A huge display of salvaged pieces of history and American craftsmanship...an eclectic collection of Old World Iron, works by local and regional artists and artisans, garden statuary, vintage and unusual items for the home. Wear comfortable shoes and be prepared to walk!
O. Winston Link Museum
101 Shenandoah AV NE
A collection of photos and digital media that focus on trains and document rural culture. Open Tuesday-Saturday, 10-5. Admission rates: Adults, $6; Seniors (60+)/Military/Students, $5.50; Children 3-12, $5.
Roanoke Pinball Museum
1 Market Sq SE, Ste 2
Located in Center in the Square, the museum is an interactive museum dedicated to the science and history of pinball in American culture. The collection has over 50 machies with production dates from 1932-2016. Open Tuesday-Thursday, 11-5; Friday, 11-8; Saturday, 10-6, Sunday, 1-6 (Times subject to change for private parties) Admission rates (Pricing includes unlimited play for the entire day ticket purchased): Ages 0-5, free with paying adult (18+); Ages 6-8, $6.78 (includes fees); Ages 9+, $12.40 (includes fees)
Taubman Museum of Art
110 Salem Av SE
Internationally renowned architecture and exhibits are part of the eleven galleries in the Fralin Center for American Art. Featured artists have included Kehinde Wiley, John James Audubon, Sally Mann, and Norman Rockwell. The museum itself was designed by architect Randall Stout and features a 77-foot glass peak in the atrium and an undulating roofline that reflects the Blue Ridge Mountains. Open: Wednesday-Saturday 10-5; Sunday 12-5. Admission: Free