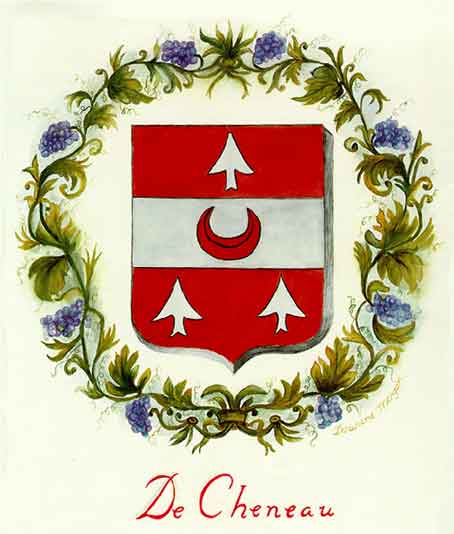 Chenault Family National Association
NEWS AND OBITUARIES

This is the place to look to catch up on current news about your Chenault, Chennault, Shinault, Shinall or "however you may spell it" cousins. If you have news you would like to share about your kin, just e-mail our web master, and then look for it here. If your branch of the family is planning a get-together or reunion, we'll post it here to get the word out. We look forward to hearing from you.
NEWS | OBITUARIES | STATE REUNIONS

NEWS AND NOTES
Chenault Family National Association Now on Facebook - Check out the Chenault Family National Association page on facebook.com. It is intended to point visitors to our web site for more information about the association. Other ways our page will be used to share family information with our members and others interested will be announced following discussion and approval in our July business meeting.
WANTED! While it may not be news, do you know you descend from a Huguenot? Estienne Cheneau, our ancestor, is recognized by the National Huguenot Society as a Huguenot whose family fled France to escape religious persecution. You are in good company...Alexander Hamilton, Davy Crockett, Henry Wadsworth Longfellow, Keith Richards, Warren Buffett, E. I. DuPont, Winston Churchill, and Sara Roosevelt (mother of FDR). The National Association invites you to apply for membership to a local chapter. To find out more about this prestigious group and how to become a member, check out their website, www.huguenot.netnation.com.
Constable Elijah Chenault (abt. 1775-1823) - Yes, Constable Chenault, who died in 1823, is still making news. In January 2008, our association was notified that Constable Chenault would be added to the National Law Enforcement Officers Memorial in Washington, DC. His appearance in the memorial was officially dedicated 13 May 2009 at the Annual Candlelight Vigil during National Police Week. As to why his name is being added to the memorial, it came to light that he was quite possibly the very first law enforcement officer to die in the line of duty in the United States of America. Our thanks go to Amy Bertsch, who was in charge of the investigation of the story about Constable Chenault. She contacted us seeking information as to who this Elijah Chenault was and where he was born. Our previous research of the Caroline County line of the family had provided enough information to make the connections and provide the background she needed about how he came to be in Alexandria, VA, in law enforcement at the time of his death. For more about this notable Chenault, refer to his profile on the Notable Cousins page of this site.
Rev. Dr. John Cabell Chenault, III, 102 years young, passed away August 29, 2016, in Richmond, VA. Born in KY, the oldest son of John Cabell Chenault, Jr. and Bess Turner Wagers, John grew up in Mississippi where he began singing with his father and sister. Singing became his first passion, and he used his gift of voice in his ministry and in another of his pursuits, serving as a camp counselor at West Virginia's Camp Greenbrier for over 66 years where he started an annual musical which he directed. Certainly, one of his accomplishments that meant so much to him was the family he and the love of his life, Mary Elizabeth, raised together.
John received his AB at Transylvania University in Lexington, KY, and did graduate work in religion at Lexington Theological Seminary and Vanderbilt University. Subsequently, he received a Bachelor of Divinity degree from the Seminary. After accepting posts in various Christian churches, he arrived at First Christian Church, Frankfort, KY, in June 1954. In retirement, he served many area churches as interim pastor. John and Mary Elizabeth traveled extensively, and he became an authority on his branch of the family through many hours of research and through his several pastorates in the various Central KY areas.
Predeceased by his beloved Mary Elizabeth Crouch, John is survived by his children, Margarete DuFresne, John Cabell Chenault, IV, and David Larkin Chenault, their spouses, and numerous grandchildren and great grandchildren.
A celebration of John's life was held September 3 at First Christian Church in Frankfort, KY, where he served the Lord for many faithful years. Donations in John's memory may be made to this church or the charity of your choice.
Charles Polk Chenault, III, 71 years old, went home to be with the Lord July 22, 2016, in San Antonio, TX. The son of Charles Polk Chenault, II, and Carey Frieda Hoskins, Charles grew up in Gonzales, TX. He served his country in the US Air Force in Viet Nam and later in the National Guard as a Chief Master Sergeant. He worked for Texas Instruments and Raytheon as an electrical engineer. As a longtime member of Pond Springs Baptist Church and more recently Crystal Lake Baptist Church, this kind, gentle, generous man was devoted to his family, friends, and serving the Lord.
Charles is survived by his loving wife, Mary Gail, three children, Thomas Kelley Chenault, Cheri Quatlebaum, and Melissa Lucas, and five grandchildren. Donations in Charles' memory may be made to Crystal Lake Baptist Church or any veterans association.
STATE REUNIONS
(see "SET SAIL" page for National Reunion details)

Note: If you are part of a state reunion for the Chenault family by any of the spellings and do not find your reunion details below, please contact Sue Chenault, webmaster, to have the plans posted.